A$AP Rocky is in need of a lawyer ASAP.
The rapper was arrested in Stockholm, Sweden early Wednesday morning over a street fight and now faces a serious charge of suspected aggravated assault.
According to a Stockholm Prosecutor's Office press release, the Grammy-nominee was booked with three others who were involved in the incident, "two of whom were suspected of serious abuse and one of the abuse of the normal degree."
TMZ posted a video of the brawl after it went down last weekend. It showed Rocky and his crew tossing a local young man and throwing punches at him. Witnesses told the outlet the fight started because the man was pursuing the artist and his team over a pair of headphones he claimed they had broken.
Officials confirmed the arrest occurred at 1 a.m. local time on Wednesday, telling press in a statement:
"[A$AP Rocky] has been arrested and the prosecutor now has until 12 p.m. on Saturday — at the very latest — to request that he is either detained or released."
A rep for the prosecutor's office noted the 30-year-old will remain in police custody until the prosecutor makes a decision.
Meanwhile, Rocky is maintaining his innocence on social media. He took to Instagram on Tuesday to share a three-minute video appearing to show that he and his team were not the aggressors.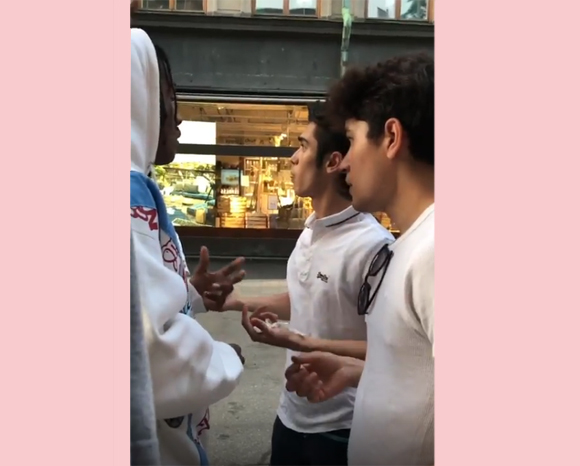 In the footage, Rocky and his team were approached by two young men on the street when an argument between the groups breaks out. One person from the rapper's entourage, who he later claimed was his bodyguard, can be heard telling the instigators to "go that way — you following us," while another person can later be heard saying "nobody wants to fight with you, bro."
After one of the young men can be seen hitting Rocky's security guard with a pair of headphones, the locals refuse to stop following the rapper and his team. Later on, Rocky is seen trying to play peacemaker, calmly telling the guys to back off because they don't want any trouble.
See for yourself (below):
The L$D performer shed more light on the incident in the caption of the video, claiming that, in addition to allegedly picking a fight with his crew, the "drug addicts" were also "slapping girls' butts." He wrote:
"So a few drug addicts are not my fans. We don't know these guys and we didn't want trouble, they followed us for 4 blocks, and they were slapping girls butts who passed, give me a break."
The prosecutor's office says the investigation is still in the initial stages and "no information about the evidence situation or investigation measures can currently be given."
Stockholm law enforcement can reportedly hold Rocky for up to three days while prosecutors decide whether or not to charge him. If they do, he's facing the possibility of up to six years in a Swedish prison.
[Image via WENN]
Original Article : HERE ; The Ultimate Survival Food: The Lost Ways