A Massachusetts man was rattled last week when he came home from work with his son to find that an intruder had broken into their home… and cleaned the place up.
Nate Roman (pictured above) told CNN that he left for work the morning of May 15 and came home from picking up his son to find that the door of his single-family home in Marlborough was unlocked.
The Boston-area man said he "didn't think anything of it" at first, because he tended to leave the door unlocked "once every blue moon." But immediately upon entering the premises, Roman felt "a vibe that something was wrong in the house."
As it turned out, something was wrong… his place was spotless!
He explained to the news outlet:
"Rugs were vacuumed, everything was neat and put away."
Sounds nice in theory — except, Roman didn't hire anyone to tidy the place up. So, he called the police to report the apparent breaking and vacuuming.
Officers took the matter very seriously when they arrived, clearing the entire house to see if the intruder was still there. But no one was found, meaning the intruder had made a clean getaway long before Roman and his son returned to the home.
According to WBZ-TV, officials spoke with Roman's neighbors and no one saw anything suspicious. The home's security system was also not set, so cameras that would have been activated by the alarm going off weren't on to capture images of the intruder.
Since nothing was taken from the home, the incident has left police baffled and with no suspects. Roman told CNN:
"No crime happened, nothing was missing or damaged, so the police have very little to go on."
The only thing they do know, thanks to the time stamp on the door sensors, is that whoever cleaned the house was inside it for about 90 minutes.
Meanwhile, Roman has his own theories. He originally thought that a cleaning service came to the wrong address when he later discovered that roses were made from toilet paper in his bathroom. See (below).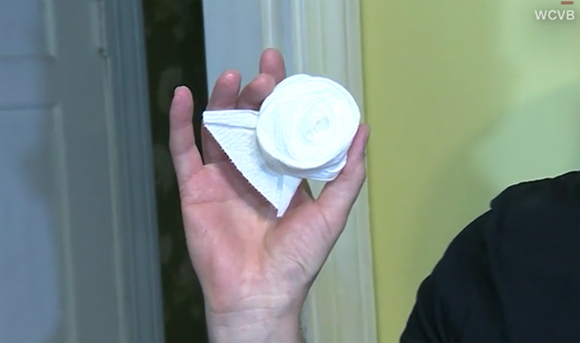 However, the New Englander eventually second guessed this accidental cleaning service theory due to the fact that his kitchen was untouched.
Roman currently has no idea whether he was the victim of an actual serial Swiffer-er, but he's hoping to move on from the non-crime. The father has since changed his locks and admits that he's still cautious when opening cabinets in case something unexpected was left behind.
He can't bring himself to throw away the toilet paper roses.
[Image via WCVB/CNN]
Original Article : HERE ; The Ultimate Survival Food: The Lost Ways
Top Rated Products
High Quality Animal Printouts For School Teachers And Home Schooling Resources. Natural Coloring Book Series Including Birds, Mamm[...]
Follow these simple step by step instructions and you can instantly become a well known author.[...]
Follow these simple step by step instructions and you can instantly become a well known author.[...]
The Lost Book of Remedies is helping Americans achieve curative self-sufficiency even in the darkest times by saving the lost reme[...]
Dating And Relationships: How To Get Girls To Like You Using Psychic Seduction With The Dream Invader Crash Course To Telepathical[...]
Dating And Relationships: How To Get Girls To Like You Using Psychic Seduction With The Dream Invader Crash Course To Telepathical[...]